Product Description

The WT3-201M Wire Terminal Tester measures the pull-off force of wire and tube terminations. It accommodates most insulation types and wires up to AWG 3 (0.25 inches [6.3 mm] OD ). Also, the tester conforms to UL, ISO, ASTM, SAE, MIL, and other requirements for destructive testing. Non-destructive testing is also possible—such as pulling to a load or maintaining a load for a specified period of time, per UL 486A/B requirements.
The WT3-201M features statistical calculation and data storage for up to 2,000 readings. It can transfer data to a PC via USB, RS-232, Mitutoyo digimatic, or analog outputs. As with all Mark-10 products, it includes a 3-year warranty.
Features
Measures real-time and peak force values

Selectable test speed, w/high speed approach and reverse

Auto-start upon sample insertion

Auto-reverse at sample break or load

USB, RS-232, Mitutoyo (Digimatic), and analog outputs

Automatic reverse / output / data storage / zeroing upon sample break helps automate testing processes

2,000-point data memory with statistics, output, and date and time stamp (date and time stamp is optional)

Password protection prevents unauthorized changes

Pass / fail indicators, audio alerts, and outputs

Save and recall up to 500 profiles for various test requirements (optional function) Pull to a specified load or maintain load for a specified period of time, as per UL 486A/B (optional functions)

Date/time stamp for all saved data (optional function)
In The Box
(1) USB cable

(1) Power cord

(1) Certificate of calibration without data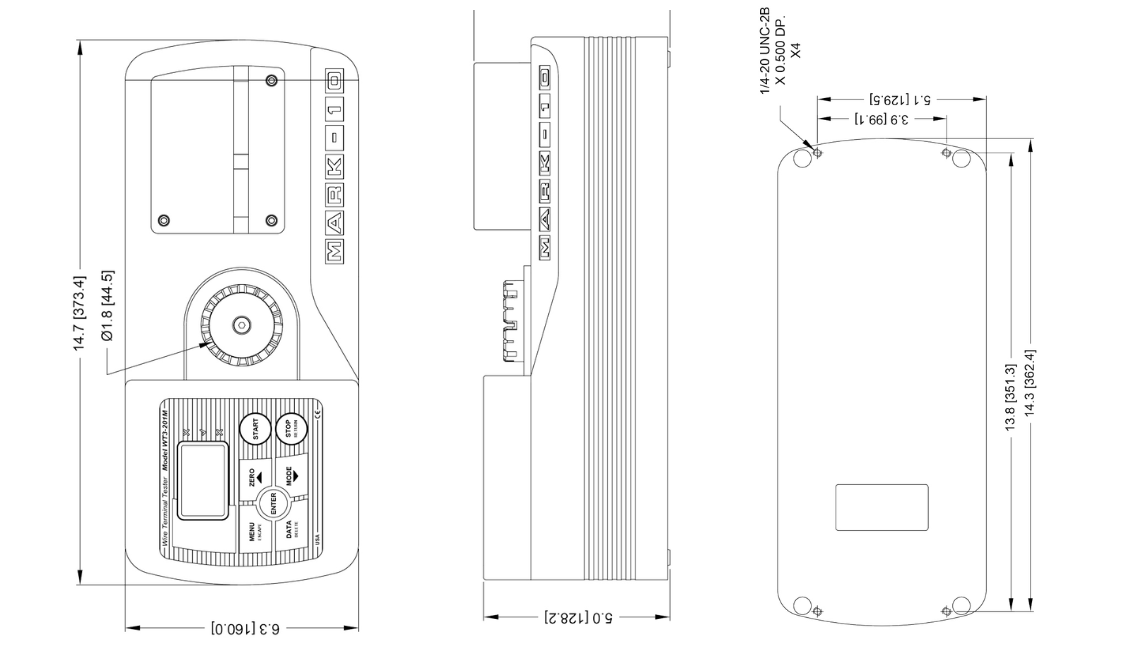 Applications
Manufacturing

Engineering

Medical

Industrial

Quality Control

Laboratory

Production
About Mark-10
Mark-10 is a designer and manufacturer of force and torque measurement products. Since 1979, they strive to provide customers with the most accurate products in the market. Their products range from handheld instruments to high-end systems used in labs, production lines, and research facilities. They specialize in supplying high-quality solutions for various industries, including automotive and packaging.
3-Year Warranty on All Products
Mark-10 Corporation warrants that its goods are free from defects in workmanship and materials for three years from delivery. If any goods become defective, Mark-10 will replace, repair, or refund the purchased price. Any modification, abuse, exposure to a corrosive environment, or use other than intended will void this warranty.
Learn more: https://mark-10.com/warranty/