Product Description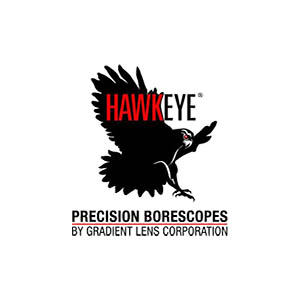 The Hawkeye HSF 005 0600 55 Pro MicroFlex Borescope is an excellent choice for inspecting tiny parts, as its 3,000-pixel fiber imaging bundle makes it easy to see the smallest details. Easily replace the video adapter to use a C-Mount camera or a different adapter to meet your specific needs.
Use the HSF 005 0600 55 Pro MicroFlex Borescope for inspecting cooling holes inside turbine blades, cannulas, catheters, needles, trocars, valves in medical devices, and many other micro-manufactured parts. Its high-quality imaging delivers a clear picture of what's hidden inside even the most intricate of objects.
Ergonomic and flexible, the MicroFlex series allows you to bend around any corner without obstruction from the lens or light source. This kit comes with a plastic-sheathed 1.5 mm fiber bundle that has a 30,000 fiber bundle. Protect your investment with the included rugged carrying case.
Features
Focusing ring

LXC-LED

Micro Flex and Semi-Rigid C-Mount Direct Video Coupler

3,000-pixel fiber imaging
Borescope Kit Includes
Hawkeye® Pro MicroFlex FlexiblePrecision Borescope

C-Mount Adapter

Rugged Hawkeye® Carrying Case

Hawkeye® Cleaning Kit
Applications
Manufacturing

Construction

Medical

Automotive

Aerospace

Electronics

Quality Control

Inspection
Uses
Inspect the internal components of a machine without having to dismantle it or remove any parts

Inspect the interiors of pipes and vessels

Inspect aircraft engines, power plant equipment, etc.

Evaluate welds on ships or other large structures

Ensure products meet specifications
About Hawkeye/ Gradient Lens Corporation
Hawkeye/Gradient Lens Corporation is a leading manufacturer of precision borescopes. They offer over 80 models of Hawkeye® Precision Borescopes, including rigid borescopes, fiberoptic scopes, and video borescopes. The company's mission is to help its customers improve their product quality and safety through innovative technology. They proudly service the metal machining, casting, welding, aerospace, and hydraulics industries. Hawkeye takes pride in its manufacturing processes: all its products are manufactured in Rochester, NY, and Phelan, California.