Product Description

Select from rubber or serrated, hardened steel jaw faces for the G1061. Unlike conventional wedge grips, the jaws ride on rollers instead of sliding along the surface of the housing. This unique design prevents jamming and improves gripping. Plus, the spring-loaded jaws open with a highly ergonomic rack and pinion lever mechanism. Therefore, the smooth and easy operation of the lever greatly reduces operator hand fatigue.
The G1061 is useful in tension, compression, or torque applications. The self-tightening mechanism allows the user to adjust their desired grasping force. Do this without removing the grip from your test sample or moving it out of alignment. As with all Mark-10 products, this grip comes with a 3-year warranty.
Features
3 capacities

Unique jam-free design

Fully enclosed

Hardened, serrated steel jaw faces, or rubber jaw faces for film and paper tensile testing applications

Thru slot for samples of unlimited width

Ergonomic handle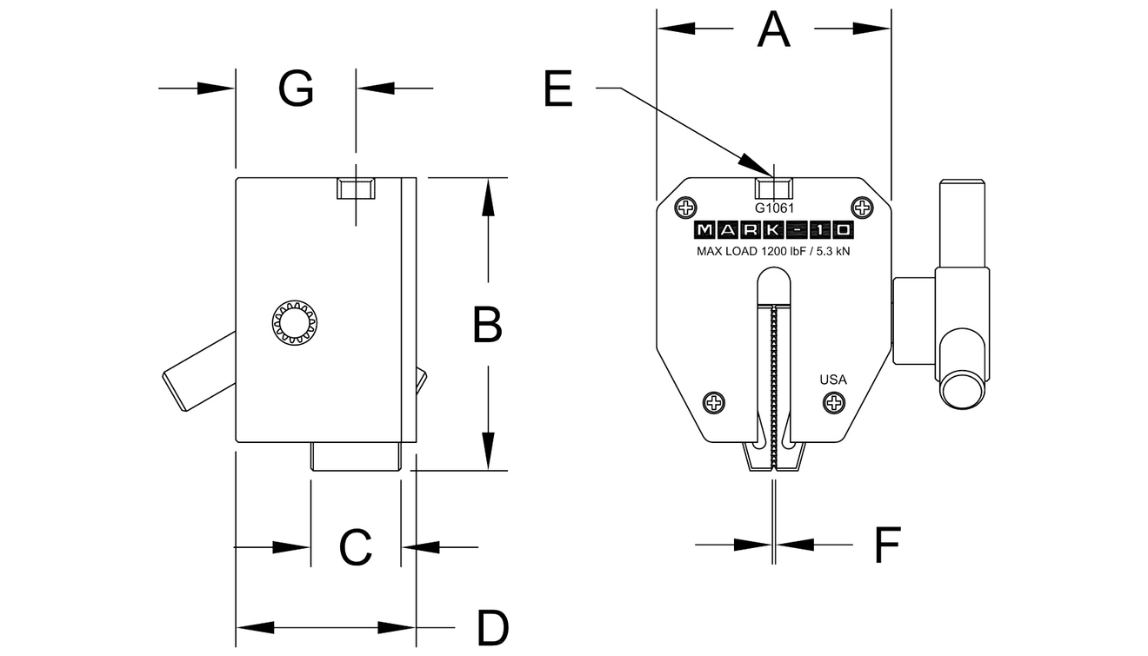 Applications
Automotive

Industrial

Aerospace

Scientific research

Manufacturing
Uses
Test the tensile strength of materials such as metal and rubber

Machine assembly and disassembly

Load stability testing

Load monitoring or control systems

Wire rope tensioning
About Mark-10
Mark-10 is a designer and manufacturer of force and torque measurement products. Since 1979, they strive to provide customers with the most accurate products in the market. Their products range from handheld instruments to high-end systems used in labs, production lines, and research facilities. They specialize in supplying high-quality solutions for various industries, including automotive and packaging.
3-Year Warranty on All Products
Mark-10 Corporation warrants that its goods are free from defects in workmanship and materials for three years from delivery. If any goods become defective, Mark-10 will replace, repair, or refund the purchased price. Any modification, abuse, exposure to a corrosive environment, or use other than intended will void this warranty.
Learn more: https://mark-10.com/warranty/