Product Description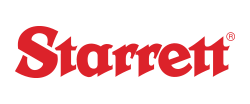 The 5002BZ-16/400 features a carbon fiber construction that makes it 30% lighter than similar jaws, improving maneuverability and responsiveness. The titanium-coated stainless steel outside measurement jaws allow for long life and superior flatness, while the coolant-resistant design ensures they will not corrode over time.
There are two preset modes: REF I and REF II. Set one mode to a setting master and another to a zero setting. These settings allow flexible operation of your system, whether you want it to function as usual or have some additional control over what settings work at any given time.
The 5002BZ-16/400 is full of features with sophisticated electronics using RS232. Pair with Starrett DataSure® Wireless Data Collection Systems to allow easy communication between equipment. Transfer data via output cable or wireless using a 1500-3A-1N node (sold separately). 
Features and Specifications
CR2032 lithium battery included

Clamping screw

Protective wooden case

Resolution: 0.0005″/0.01mm

mm/inch mode button

On/Off button

Hold feature will freeze the display when in REF I or REF II mode
This caliper ships with a set of disc contacts. Additional contacts are available.
The L.S. Starrett Company is a world leader in the manufacturing of precision measuring tools and instruments for industrial applications. They have been making tools for over 100 years and are known for their quality and durability.